The Brian Gelfand Group
This New York based group has performed around the country
impressing audiences critics.
Accessible yet unique the Brian Gelfand Group pushes the boundaries of Jewish music from what they are to what they could be. The Brian Gelfand Group uses music to present and wrestle with contemporary Jewish issues. Their performances include original works in English and Hebrew and some rearranged modern Israeli classics.
The English repertoire contemplates the relationship between individual versus communal identity. The original Hebrew songs attempt to provoke a personal connection with Jewish texts.
Gelfand uses various musical styles to interpret ancient sources in a meaningful way. The group's modern Israeli repertoire celebrates their connection to Israel. The Brian Gelfand group brings together the extensive talents and experience of composer/songwriter/singer Brian Gelfand - vocals, piano and keyboards, with
Musicians:
Alec Berlin- acoustic and electric guitars
Alec's experience playing rock, blues and jazz has lent imagination and wit to ensembles ranging from duos to jazz big bands, original rock groups, and musical theater. He appeared across the country as part of the national touring companies of "Grease" and "Joseph and the Amazing Technicolor Dreamcoat." Berlin has performed extensively in his hometown of Cleveland, Ohio as well as in Washington D.C., Santa Fe, New Mexico, Boston, Massachusetts, New York City and Israel, where he led the Alec Berlin Quartet as a member of the Arad Arts Project. Alec met Brian while earning a Master's Degree in Jazz
David Levine - drums and percussion
Drummer and composer David Levine has been playing professionally in the New York area for ten years. He has performed in a variety of musical settings, including musical theater, original rock bands, and studio work. A graduate of Columbia University, the Jewish Theological seminary and New York University, David's musical palette includes swing, jazz, rock, disco, show tunes, pop Latin and Middle Eastern. While at JTS, David joined Brian's band and they have been playing together for the last ten years.
Danielle Upbin - vocals
Vocalist Danielle Upbin's love for music and Judaism is evident from her captivating performances. Her musical theater experience includes performances throughout Israel and the United States, including her work as a featured performer with Elizabeth Swados. She was a member of the a cappella group "The Clefhangers" while attending Barnard College. She is currently a rabbinical student at the Jewish Theological Seminary. Danielle first performed with Brian in Israel in 1994 and has been part of his band ever since.
































Performances listed at
Actual Art:actualias
Update
For more information
write to Brian

New CD in process.
Available Now
Brian Gelfand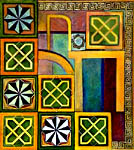 Al Kol Eileh
Esah Eini
Never The Right Time
Erev Shel Shoshanim
Tov Lehodot
Ashira
Welcome Home
Mi Ha'ish?
Dodi Li
Hinei Lo Yanum
Cover Image:
Chet of the Aleph Bet series
painted by Wendy Angel