Brian Gelfand
Composer, Songwriter, Keyboardist, Vocalist
Brian has been composing and performing his own music for twenty years in New York, Boston and Israel. Brian's unique compositions explore emotional and stylistic range.
His songs contemplate the relationship between
individual and communal identity.
| | | | | |
| --- | --- | --- | --- | --- |
| | Listen | | | Lyrics |
| | Blue Skies | | | Blue Skies |
| | I will not Run | | | I will not Run |
| | For Us | | | For Us |
| | Bride of Demons | | | Bride of Demons |
Brian Gelfand draws on many influences- to name a few:
Steely Dan, Stevie Wonder, Shawn Colvin, Jonatha Brooke,Chopin, Bach, Neil Finn, Rufus Wainwright

He holds a Master's Degree in Contemporary Improvisation from the New England Conservatory, a BA in music from Colombia University, and a BA in Talmud and Rabbinics from the Jewish Theological Seminary.

Available Now

by Brian Gelfand



Al Kol Eileh
Esah Eini
Never The Right Time
Erev Shel Shoshanim
Tov Lehodot
Ashira
Welcome Home
Mi Ha'ish?
Dodi Li
Hinei Lo Yanum



Cover Image: Chet of
the Aleph-Bet series
painted by Wendy Angel

A unique blend of modern musical styles and traditional Jewish themes.

The Brian Gelfand Group

This New York based group has performed around the country impressing audiences critics.

Accessible yet unique the Brian Gelfand Group pushes the boundaries of Jewish music from what they are to what they could be. The Brian Gelfand Group uses music to present and wrestle with contemporary Jewish issues. Their performances include original works in English and Hebrew and some rearranged modern Israeli classics. The Hebrew songs attempt to provoke a personal connection with Jewish texts.

Gelfand uses various musical styles to interpret ancient sources in a meaningful way. The group's modern Israeli repertoire celebrates their connection to Israel.

The Brian Gelfand group brings composer/songwriter/singer Brian Gelfand together wirh the extensive talents and experience of the other players.

Brian Gelfand - vocals, piano and keyboards
Alec Berlin- acoustic and electric guitars
David Levine - drums and percussion
Danielle Upbin - vocals



This site is in collaboration with Actual Art
Please respect copyrights and do not reproduce contents of this site without permission.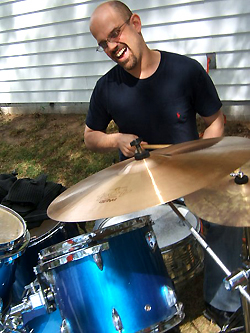 For more information write to Brian

New CD in Process